The GenRight crew at the 2012 Hi Desert Round-Up.
Flexing on the RTI ramp.
Olympic brought their Cherokee.
Link to photo album
The 41st Annual Hi Desert Round-Up is in the books and as they say history. Although attendance was down from last year the event made almost the same. Our friend the wind was once again back this year from Wednesday until Saturday when it let up a bit. I have been to this area over a half-dozen times and the wind has blown each time. An old time Lucerne Valley resident once told me that this area is the butt of the desert and I find that I must agree with him.
The best-equipped game was dynamite this year and I must thank Natalie Wriggle for announcing the game again this year; great job Natalie. There were four clubs competing this year. Victor Valley was defending their title and hopefully taking home the one hundred dollar prize donated by Olympic 4x4 Products, with Scouts West, Gad-Zuks, and Gary's Group all trying to take it away. It was nip and tuck for the first couple of questions and then it kind of became a race between Victor Valley and Scouts West. I had told Patty from Victor Valley that they were going down. You have no idea how hard it was for me to eat my words. The final score was Victor valley 37, Scouts 36, Gad-Zuks 20 and I think Gary's Group had 20 also. But to put it all into perspective, Gad-Zuks had only one vehicle. Their other vehicle got lost and ended up in Rialto or Barstow. So we should have been spotted 10 points for that, and since the Samurai's are so small and don't have a lot of room, we should have been spotted another 8 points and that would make Gad-Zuks the winner with 38 points. So all I have to do is convince Patty and the rest of the Victor Valley crew that they actually lost!
My earliest memories usually involve some form of dirt: digging holes, shoveling sand, or riding in the back of the Jeep, happily getting dust in every pore.
As I got older, even though I still enjoyed getting completely covered in dirt on the trail, catching marshmallows on fire around the campfire was pretty good too.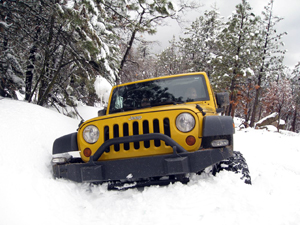 Winter has arrived in many parts of the country, and that means a hazardous situation awaits you nearly every time you get behind the wheel. You may know how to drive in snow, but do you know what to do if you were stuck in snow?

Recently, drivers on I-90 near Buffalo, N.Y., were trapped for up to 12 hours when a massive blizzard hit the area. Some cars were literally buried in snow. If you were caught in a situation like that, would you know how to handle yourself?

You don't have to be out in the country to encounter a hazardous situation. You can get socked in while driving home from work one day. If you're stuck, you can bet that hundreds of other motorists are, as well. Help could be hours away.

Every situation is unique, but the following guidelines apply in all situations, and could save your life. I highly recommend you copy this article to your laptop or other device. You're likely to have that with you, but you may not have access to the Internet. A PDF copy is available here.
It's easy nowadays to rely entirely on a GPS receiver to direct you during a trip. Just program in your destination, and let the friendly voice and digital map guide you along the way. But like any electronic gadget, a GPS unit has its limitations, and you can end up in trouble if you're not careful. Plus, they can lose power or break, leaving you stranded if you don't have a back up.

GPS units are of limited use when you're driving off road. The maps and other data they provide tell you how to get from Point A to Point B, but they say nothing about the quality of the roads. This became painfully clear to a group that was traveling in the Grand Staircase-Escalante National Monument in early August. Instead of a leisurely ride, these folks found themselves being led down the wrong roads, many of which were barely passable, and way off course. They ended up at the edge of a cliff, where they spent the night before being rescued.

The GPS system offered what appeared to be the most obvious route, which normally is the most direct, but it could not account for the quality of the roads. Their vehicles got stuck in sand, and in their attempt to backtrack they ran low on gas. But they were lucky: they got out alive.

Four-wheelers are good about packing their vehicles with tools, tow straps, winch, food, water - you name it; they include it.

One piece of equipment that often gets overlooked, however, happens to be one of the more critical items: a fire extinguisher. Remember that a fire could occur inside or outside your vehicle. Ever wonder what you'd do if your campfire or stove got out of hand? Or if your engine compartment started smoking? You may never experience a fire–and I hope you don't–but if you do, you'll be thankful you packed an extinguisher. Many smaller fires can be snuffed out quickly and safely.

Extinguishers come in many sizes. I've found the 3 lb. size adequate for vehicles. Buy two high-quality refillable models. You'll spend a few extra dollars, but it'll be worth it. Think of a fire extinguisher as an insurance policy. You don't want to cut corners there.

Mount one on the passenger side of the transmission tunnel. The other should be mounted in a visible spot on or near the back gate. The key here is that it is accessible. Too many people mount or place their extinguishers under boxes or other stuff in the back. It won't do you any good if you can't grab it quickly.