The "guide" made only one promise, which was "we will get lost several times." Although, there was a hint of gold at the end of the rainbow. Not real gold that started the "gold rush," but the lure of adventure, exploration, four wheeling, historical relics and the like. It was very apparent from the beginning that the guide was handicapped (his license plate). His vision is poor and he needed a six-inch magnifying glass to read a map. His hearing is bad and his first response is "What" no matter how loud you talk. But, he is a walking encyclopedia about emigrant trails and the Pony Express. He is also good at "multi-tasking" up to a point. At times he had difficulty driving while also eating, talking on the CB, listening to the ham radio and country western music, while also simultaneously reading a map and looking for the proper road. Ah, but you might also wonder about the people that would follow such a guide!
Old men that like to "feel young" are often tempted to be lured into adventures that are better suited for those that truly are young. In this case there were four victims to this episode. The first old man (John McVicker) is an ex-Marine that is extremely dedicated to his tan colored steed. He has owned his mode of transportation since its birth almost 40 years ago (normal lifespan is about 15 years). His poor beast was sadly burdened from top to bottom like a pack mule. Like an old oxen his beast moved slowly but steadily (1976 Toyota). The next old man (Larry Peckham) owns a strong, young blue steed that is ready and willing to go the extra mile. Although, his beast of burden was strong headed and at times did not respond well to the reins (2004 Jeep). The third old man (Mike Johnston) rode a tried and true black steed that had traversed the equivalent of circling the earth 10 ½ times. This steed was willing, but on a steep hill could suffer from heat exhaustion (1989 Montero). The guide (George Johnston) had a very big strong red mount with an insatiable appetite (1995 Bronco).
Their troubles began at the first stop for gasoline. Several were befuddled when they discovered that an ATM card is different from a credit card and Arco will only accept an ATM. Overcoming this complication they continued north on Hwy 395 and gassed up again at Standish Ca. Shortly thereafter they left the pavement and began their journey on what they thought was the Nobles Emigrant Trail. Twenty minutes later, the guide determined we were headed in the wrong direction and it was apparent that we were lost already. The guide did some quick scouting and ten minutes later he found the correct trail. Approximately 40 miles up the dirt trail we found a beautiful small canyon with a stream and set up camp for the first night. This was a beautiful spot and we met a local ranch caretaker, Mark Barlow that owned a home in Midas Nv., one of our future stops.
On the road again about 7a.m. (this became our standard start time) we continued on the Nobles Trail to Gerlach, Nv. This is a small declining town that is known for the local "Burning Man" annual ceremony. As you enter town the sign says "Population: Want Some." The gas station attendant was very informative and we were refreshed for the next part of our trip.
We now left the Nobles Trail and traveled north on various very dusty dirt roads for about 40 miles to intercept the Applegate Trail. In an effort to find an old mining operation we once again made a wrong turn and had to do some backtracking. This section started our oft repeated expression "whereabouts are we?" This question generally created various discussions and much speculation. Although we had numerous maps, they each seemed to show different roads or no roads. At times we even called upon the GPS for another opinion. We finally found the Applegate trail at the east entrance to the High Rock Canyon. Unfortunately the canyon is closed during this time of the year so we then headed east on the Applegate Trail. We took a short detour to visit the Soldier Meadows Guest Ranch. This became a scene right out of "City Slickers." After a brief introduction the conversation went something like this:
John (Billy Crystal)-"Can I go look around?"
Manager/caretaker (Curly)- "Why?"
John-"I just want to see what is here."
Curly- "Where?"
John- hesitantly "At that building"
Curly- long pause-"OK" then he continued to watch John.
George tried to break the ice and asked Curly for a brochure. Curly motioned for me to follow him and he entered a building. He kept the door open and motioned for me to come inside. I didn't hear any banjo music so I followed. We got some literature and got out of Dodge.
We then entered the Black Rock Desert and skirted a huge dry lake. We saw wild horses and colorful hillsides. We passed hot springs that were at 175 degrees and then settled down for the night at the Black Rock Hot Springs.
The next morning we hit the trail again, and once again found ourselves going in the wrong direction, north instead of southeast. Another reconnoitering to determine our "whereabouts" and we headed south on the faintest of trails to try to intercept the Applegate trail. Several miles out of our way and once again we were on the trail. We headed for the Quinn River, which turned out to be a mud hole. The trail marker for the Quinn River had the following 1849 quote: "On this night's route a destruction of property beyond my conception lined the road. Wagons and carts were scattered on all sides."
After skirting the mud hole we followed some railroad tracks, saw the active mining operation at Sulphur and then got back on the trail to find Rabbit Hole Springs. These were nice springs and the start of the horrible desert crossing mentioned above. We again lost our "whereabouts," took a detour and then intercepted the trail again. We followed the trail to the Humboldt River and joined the California Trail near Imlay, NV.
At this point we took a side trip to visit some ghost towns, old mining sites, got lost and then set up camp at Unionville, NV. This is a cute little town with a public park set up for camping.
The next morning we headed back to the California Trail and stopped at Winnemucca to get supplies at the Walmart. At Golconda we left the trail again and headed for Midas, NV. The date was 4/30/13 and it was George's 66th birthday!
In the little town of Midas we found the only commercial enterprise, a saloon. We celebrated his birthday with a few drinks and the biggest hamburgers I have ever seen (10 oz.). We had fun with the bartender and the owner (she reminded me of Kitty in Gunsmoke). The bartender pulled me aside and said "I know which one is Larry, which one is Moe and which is Curly?" I am still not sure if he was joking. The sign behind the bar said, "We don't have a town drunk, we take turns." We asked them which house belonged to Mark Barlow (the ranch caretaker we met at our first campsite) and they said they had never heard of him -- this is in a town with a population of seven. We finally convinced them that we really had met Mark, he had told us about where he lived and we were not with the Government. They then told us all about his house and where it was.
After visiting more ghost towns/mines we started looking for a place to camp. We finally settled in a small box canyon. To protect ourselves from the wind we huddled our vehicles among the willows and parked with the cow pies (they actually do burn). This was the night that it got down to 18 degrees! A lot of grumbling (and some laughter) the next morning but we finally got on the way again.
We wanted to make our way to Jarbridge but as usual could not find our "whereabouts." We went up and down Jack Creek, hit a dead end at an active mine, got gas at a Chevron station in Owyhenee that does not accept Chevron cards, got misdirections from the nice folks at Mountain City, followed a cow path as directed by the GPS and eventually found Jarbridge. While on the cow path, at one point Mike and George hung on the uphill side of the Toyota to keep it from flopping over.
Jarbridge was worth all the misadventures and is a wonderful little town. We had a great visit with the locals at the "Trading Post." After some cold drinks, ice cream and gossip, we were on our way again. After some debates about going the wrong direction, we found the greatest camping site along the stream, complete with firewood, tables, fire rings, and pit toilet. This was probably our best campsite on the trip.
The next morning we headed into Rogerson, Idaho and then down to Jackpot, NV for gas. We reattached ourselves to the California Emigrant Trail and started northeast again. We crossed the corner of Utah and then went back into Idaho following the path of the early pioneers. We thought we had found the City of Rocks but it turned out we were lost again. We found gas and ice cream at a friendly little town called Oakley. We watched the teenagers practice roping calves and re-examined our maps. We then found the real City of Rocks National Preserve.
In 1852 approximately 52,000 emigrants passed through the City of Rocks on their way to California and Oregon. Some of them wrote on the rocks with axle grease and you can still see faint markings. This was a nice place to camp and although there is a fee, the office was closed. We bought some souvenirs at the visitor center the next morning and then followed the old trail northeast to Hwy 84.
We jumped off the Hwy and then traveled to Promontory, Utah. On the way we passed what appeared to be a huge secret government facility completely fenced, patrolled and with guarded gates. It appears that this is the location where they study and maintain all the captured UFO spacecraft and occupants. At Promontory (the Gold Spike location) we got to see a demonstration by the replica steam engine and learn about the history of this location.
We hopped onto the old railroad bed and started west on our journey home. We followed the dirt path of the old train route until he got to Hwy 30 and then headed to West Wendover, Nv. for gas. Then south and east toward Ibapah, Utah to hook up with the old Pony Express. We snuggled up behind a small hill and set up camp for the night. We made a rock fire ring and burned a lot of dead sage and cow pies.
The Pony Express is today a long and lonely dirt road with many twists and turn. There are very few remains of the original structures. Parts of it became the early motorcar Lincoln Highway and some is now Hwy 50. Fortunately it is fairly well marked so we did not get off track too often. In the middle of no place we came to the JP General Store. We listened to the laments of the proprietor's wife as she explained how she came to this location six months ago as a newlywed. She goes back to Bend, Oregon once a month to visit kids and grandkids. Most of her customers are from the Indian Reservation and they generally buy cigarettes and alcohol. Her husband was out branding calves with his brother.
Back on the trail again we admired the scenery through the mountain passes and tried to save a calf that was abandoned at one of the springs. We spent our last night camped on the side of a gulch just off the Express trail near the Ruby Mountains. The next day we worked our way west and south to Eureka, NV on Hwy 50 to get gas. At that point it was decided to head home and bring this journey to an end. After approximately 2,000 miles we were back at the beginning.
It was a great trip with a lot of laughter, dirt and four-wheeling. Combined total of about 8,000 miles and only two mechanical problems: one bolt fell out of the Jeep front end, and the Montero blew a bypass coolant hose. Fortunately we were able to quickly make repairs and keep going.
My earliest memories usually involve some form of dirt: digging holes, shoveling sand, or riding in the back of the Jeep, happily getting dust in every pore.
As I got older, even though I still enjoyed getting completely covered in dirt on the trail, catching marshmallows on fire around the campfire was pretty good too.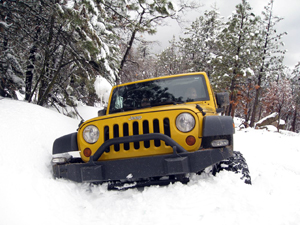 Winter has arrived in many parts of the country, and that means a hazardous situation awaits you nearly every time you get behind the wheel. You may know how to drive in snow, but do you know what to do if you were stuck in snow?

Recently, drivers on I-90 near Buffalo, N.Y., were trapped for up to 12 hours when a massive blizzard hit the area. Some cars were literally buried in snow. If you were caught in a situation like that, would you know how to handle yourself?

You don't have to be out in the country to encounter a hazardous situation. You can get socked in while driving home from work one day. If you're stuck, you can bet that hundreds of other motorists are, as well. Help could be hours away.

Every situation is unique, but the following guidelines apply in all situations, and could save your life. I highly recommend you copy this article to your laptop or other device. You're likely to have that with you, but you may not have access to the Internet. A PDF copy is available here.
It's easy nowadays to rely entirely on a GPS receiver to direct you during a trip. Just program in your destination, and let the friendly voice and digital map guide you along the way. But like any electronic gadget, a GPS unit has its limitations, and you can end up in trouble if you're not careful. Plus, they can lose power or break, leaving you stranded if you don't have a back up.

GPS units are of limited use when you're driving off road. The maps and other data they provide tell you how to get from Point A to Point B, but they say nothing about the quality of the roads. This became painfully clear to a group that was traveling in the Grand Staircase-Escalante National Monument in early August. Instead of a leisurely ride, these folks found themselves being led down the wrong roads, many of which were barely passable, and way off course. They ended up at the edge of a cliff, where they spent the night before being rescued.

The GPS system offered what appeared to be the most obvious route, which normally is the most direct, but it could not account for the quality of the roads. Their vehicles got stuck in sand, and in their attempt to backtrack they ran low on gas. But they were lucky: they got out alive.

Four-wheelers are good about packing their vehicles with tools, tow straps, winch, food, water - you name it; they include it.

One piece of equipment that often gets overlooked, however, happens to be one of the more critical items: a fire extinguisher. Remember that a fire could occur inside or outside your vehicle. Ever wonder what you'd do if your campfire or stove got out of hand? Or if your engine compartment started smoking? You may never experience a fire–and I hope you don't–but if you do, you'll be thankful you packed an extinguisher. Many smaller fires can be snuffed out quickly and safely.

Extinguishers come in many sizes. I've found the 3 lb. size adequate for vehicles. Buy two high-quality refillable models. You'll spend a few extra dollars, but it'll be worth it. Think of a fire extinguisher as an insurance policy. You don't want to cut corners there.

Mount one on the passenger side of the transmission tunnel. The other should be mounted in a visible spot on or near the back gate. The key here is that it is accessible. Too many people mount or place their extinguishers under boxes or other stuff in the back. It won't do you any good if you can't grab it quickly.